BLUE STAR 8000i – Desktop Media Phone
The AastraBluStar™ 8000i Desktop Media Phone is a powerful desktop video conferencing and collaboration tool that is designed to enhance the way you communicate and collaborate. Offering true HD video conferencing, the AastraBluStar 8000i uses the latest in video and communications technology to enable a natural high quality video experience.

The BluStar 8000iTM desktop media phone combines true HD video conferencing quality with unified communications and business applications into a powerful collaboration and easy to use device.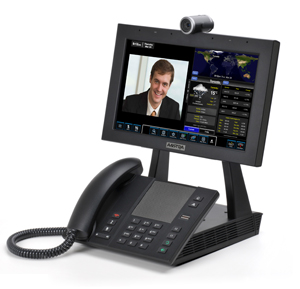 With its 13 inch touch screen, the AastraBluStar 8000i provides broadcast quality video and audio, resulting in a totally "natural collaboration" experience. The product delivers true HD 720p video conferencing at a rate of 30 frames per second. The video quality is matched by superior HD sound quality, delivered via four voice tracking microphones and three speakers.

This high quality desktop media phone enhances productivity by helping teams to work better together – whether for peer to peer communication or for up to 100 way video conferencing. At the touch of a button, and without the need to book meeting rooms, teams can conference to share documents and review and discuss project developments for improved productivity and reactivity. Sharing content from a desktop PC to BluStar 8000i devices is intuitively easy and enables quick and efficient information sharing.

In addition to the strong collaboration features, AastraBluStar 8000i provides a range of built-in business productivity applications, which can run at the same time as the live video. Half of the display can be allocated to user defined applications to create a powerful business dashboard delivering information and business intelligence easily and in real time.

The BluStar 8000i is intuitive and easy to use, with a familiar phone interface and clear touch screen controls. Biometric fingerprint reading identifies users and makes hot desking simple and secure.

The AastraBluStar 8000i desktop media phone is a powerful communication tool that brings natural collaboration to every desktop.